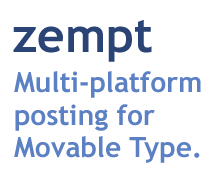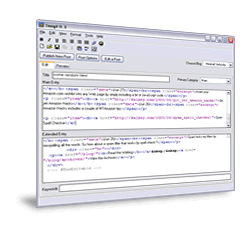 News
Zempt 0.4, November 07, 2004
We've released Zempt 0.4, the result of Toby's hard work. This version fixes a number of small bugs that I'm sure were irritating in the day-to-day use of Zempt, as well as making some major changes and fixes.
Improved TypePad support
Edit your previous TypePad posts in Zempt
Fixed Spell Check
Spell check problems have been fixed

Improved Look and Feel
New toolbars, new keyboard shortcuts and more
The full changelog can be seen below.
Continue reading "Zempt 0.4"
Welcome Toby Simmons, November 07, 2004
We'd like to Welcome Toby Simmons to the development team as lead developer. One of the things about open source is that when the developers get busy with life, projects like Zempt stall a bit (as you may have noticed). Having more developers certainly helps this. On that note, I'd like to welcome Toby Simmons to our team.
Toby is a long-time Zempt user who developed the IE right click extension for Zempt. A few weeks ago he emailed to tell me he'd checked the Zempt source out and was making some progress fixing bugs. I looked over what he'd done and immediately asked him to help out around here.
Context Menu Extension for IE, November 06, 2003
Toby Simmons has created an Internet Explorer context menu extension for Zempt. After installing the program you'll be able to highlight text in Internet Explorer, right-click, and post the information through Zempt.
Proxy support, July 02, 2003
If you downloaded 0.3 and have trouble connecting to a proxy server, please download it again. We've made an adjustment to the proxy support that should fix the problem.
Bookmarklets, July 01, 2003
Want to use Zempt, but afraid to live without your MT bookmarklet? Now you don't have to.
Drag that link to your browser toolbar or bookmark it. Highlight some text and click the bookmarklet. Zempt will open up with your entry.
You can also develop your own bookmarklets. Just send data to Zempt by using the URL zempt:newPost? followed by your entry data. In addition to the MT-compatible bookmarklet fields of link_title, text, and link_href, you can also set any of Zempt's text fields. Use title, body, extended, excerpt, or keywords. For example, I post to Simplelinks using this bookmarklet: Simplelink
That bookmarklet puts the page title into my title, the link into the main body, and the selected text into the extended entry.
If you set both body and text, text will be ignored.